Tour Details:
Welcome on our Spring 2019 European Tour.
This information shows example itineraries to use as a guideline, please note that the order we visit various attractions may change depending on weather conditions. Please follow the advice of your tour manager and make sure that you are at the various pick up points and departures at the correct times.
IMPORTANT BOOKING CONDITIONS: Once you have booked this tour, cancellation is not possible within 6 weeks of departure. Any cancellation request within 6 weeks of departure means no refunds can be given.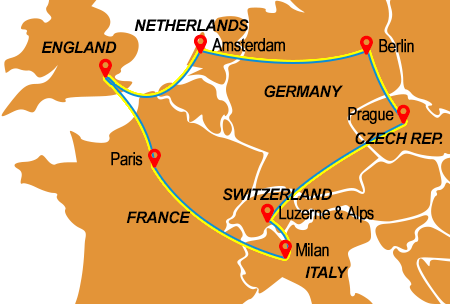 Join our spectacular Spring 2019 European Tour visiting 7 European countries including Amsterdam and Easter in Paris.
A combination of hotel accommodation and overnight coach travel provides the ideal opportunity to travel for 10 days in Europe over spring break and Easter.
Departing April 13, the tour starts with a stop in Brussels, Belgium before continuing to Amsterdam. Overnight to Berlin in Germany, where you will spend the day before continuing to Prague in the Czech Republic. You will have a full day in each of these cities to explore the sights, shops and museums.
From Prague the tour continues overnight to Luzern in Switzerland for an opportunity to take the cable car to the top of Mount Pilatus for spectacular views across the Alps.
From Luzern, we then travel across the border into Italy and to our hotel in Milan. You will have full day to explore Milan before continuing onto Paris for Easter Sunday including overnight hotel in Paris.
You will have the whole day and evening of Easter Sunday to explore the sights of Paris. You can also join our optional tour to Disneyland if you wish. Speak to the guide for more information. Finally we start our journey back to the UK to finish.
On the tour there are overnight hotels in Belgium, Amsterdam, Prague, Milan & Paris. The remaining nights include overnight travel on the coach and sleeping on board during travel.
TOUR ITINERARY
Day 1: Saturday 13th April 2019

Morning departure from the UK with travel by coach and Eurotunnel to the Brussels, Belgium before checking into Le Dome Hotel, Boulevard de Jardin botanique 9. 1000 Brussels for the first night. Evening walking tour of Brussels city centre where you can see the Grand Place, Manneken Pis and much more.

Day 2: Sunday 14th April 2019
After breakfast we continue to Zaanse Schans- windmill village, taking in the scenery of Holland before arriving at our hotel. Accommodation will be at De Rijper Eilanden- Zuiddijk 2A, 1483 MA De Rijp.


Day 3: Monday 15th April 2019
Spend the day exploring Amsterdam, including the Van Gogh Museum, The Rijksmuseum and the Heineken Beer Museum! You can take a trip on a canal boat and stop by one of the many "coffee shops" and go on our walking tour of Amsterdam's Red Light Disctrict before we continue with an overnight journey to Berlin.
Day 4: Tuesday 16th April 2019
Morning arrival in Berlin and a full day to explore the capital city of Germany. See the Brandenburg Gate, visit the Reichstag and stand on the Berlin Wall. There will be time to visit the many museums on Museum Island before we continue across the border into the Czech Republic for an evening arrival at the Ibis Hotel, Praha Mala Strana- Plzenska 14, 15000 Prague.

Day 5: Wednesday 17th April 2019
Spend the day in Prague. Visit Prague Castle and the Old Town Square. See the Astronomical Clock and walk across the Charles Bridge. Take some time to relax with some local beer! We continue onwards overnight to Switzerland & The Alps.
Day 6: Thursday 18th April 2019
We arrive in the morning at Luzern at the heart of the Swiss Alps. Choose either to take the cable car to the top of Mount Pilatus for spectacular views across the roof of the world from the panoramic terrace and keep warm with a glass of hot wine or enjoy Luzern city centre where you can explore the old town, walk across the famous Chapel Bridge and see the Lion Monument before we continue our journey to Italy and our hotel in Milan. Accommodation is at the Best Western Antares Hotel Concorde - Viale Monza 132, 20127 Milano.

Day 7: Friday 19th April 2019
After breakfast at the hotel you can spend the day visiting Milan, the fashion capital of Europe! The Metro station is 50 metres from the hotel. Visit the Piazza del Duomo with its magnificent cathedral and spend some time at the Galleria Vittorio Emanuele II, the world's oldest shopping centre. Remember to try some gelato and coffee whilst you are there! Evening departure from Milan and overnight travel to Paris.
Day 8: Saturday 20th April 2019
Morning arrival in Paris with a full day to see all of the sights including the Louvre Museum, Notre Dame Cathedral & The Eiffel Tower. Take a boat trip along the River Seine and spend the evening on the famous Champs Elysees, one of the most famous streets in the whole world. Overnight at the Novotel Paris Est. 1 avenue de la Republique

Day 9: Sunday 21st April 2019
Join our optional tour to Disneyland Paris and spend the day enjoying all of the rides and parades at the Magic Kingdom. Alternatively spend some more time sightseeing in central Paris or take a trip on the Metro to visit The Palace of Versailles. Evening departure from Paris and overnight travel back to England.

Day 10: Monday 22nd April 2019
Morning arrival back in the UK.
Hotel accommodation based on multiple occupancy room (3 or 4 people sharing). Twin and single room upgrades available.
FOR SCHENGEN VISA TO TRAVEL: Book appointment at Embassy of Belgium (as its the first place with accommodation) with the Visa Application Centre
Joint Visa Application Centre, 66 Wilson Street, London, EC2A 2JX
Application centre can process a Schengen visa for: Belgium
The application centre's helpline number is 0871 376 0023 (line open from 8:30 to 17:30 Monday-Friday).
Email help address: info.schengen@vfshelpline.com
APPOINTMENT ALWAYS REQUIRED - call the telephone number below or follow the links from the boxes below for any main destination country for appointment.
TO BOOK AN APPOINTMENT FOR SCHENGEN VISA APPLICATION: PHONE 09067 530 530
You will need when you phone: full name, passport number, passport valid from date/expiry date, your contact number and email address, your UK residence address, dates of travel.
Included
---
Transport
Tour manager
5 nights hotel accommodation with breakfast
Free time for sights, shops & museums
Maps and guided walking tours
Explore Brussels
Explore Amsterdam
Explore Berlin (Germany)
Explore Prague (Czech Republic)
Explore Luzern & Alps (Switzerland)
Explore Milan (Italy)
Easter in Paris (France)
Hotel Accommodation
---
Optional room upgrades available at extra cost.
5 nights in a hotel with 3 or 4 people sharing a room with an ensuite bathroom and breakfast included in the mornings.